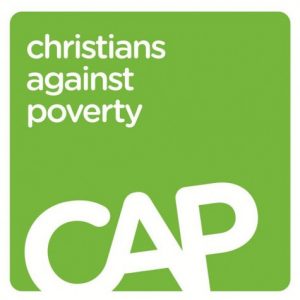 Christians Against Poverty is an award winning national debt councelling charity working through a network of centres based in local churches. This involves visiting the clients in their homes and offering a unique 'hands on' approach, which involves debt counselling, advice and practical help. This approach empowers people to help themselves out of poverty and to be released from worry and fear, which can be generated by overwhelming debts
Our service is completely free and CAP will help anyone regardless of their religious beliefs.
If you are struggling with debt, or know someone who is, you can call 0800 328 0006, or click here to find out more.
If you would like help with budgeting, we also run a CAP Money Course.
Quote from a CAP client:
"I felt totally overwhelmed and trapped. I was
bombarded with letters and calls. I was seriously
considering suicide. Now I feel lightness instead
of darkness. My life has been transformed! CAP
has shown me true love."
Donations
We have running costs to cover to help us run this service. At present we have a shortfall in funds and would appreciate any contributions. Click here to donate.
Interested in joining the team?
Roles include admin. support, helpers (for client visits), be-frienders and prayer team.
Even if you can only spend an hour or two, we can find a role for you.
To find out more about CAP or to volunteer please email jontaylor@capuk.org