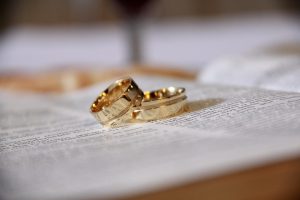 We're glad to help couples who are marrying at another church who need their banns of marriage published at St Paul's.
Banns are one of the legal preliminaries to marriage. You should first talk with the vicar of the parish in which you want to marry. He or she will let you know if banns are needed.
Next, check that you live in our parish by visiting the A Church Near You website.
If you are in our parish you will need to contact our office and fill out a form. After you have completed it, please bring it to a Sunday service with photo ID and proof of address and give it to Angela McFarlane with cash or cheque made payable to St Paul's PCC.
Angela will then confirm the dates when they will be read and we will give you a banns certificate on the 3rd Sunday they are read out.
It's not essential to be in church when your banns are being published but most couples do this. You'll hear the legal announcement and then we'll pray God's blessing on all your preparations.
If you wish to be married at St Paul's please contact the church wardens.